Original Title: Fast Food Vindication
Author: Lisa Tillinger Johansen
Publisher: J Murray Press
Release Date: October 4th 2012
Genre: Non-fiction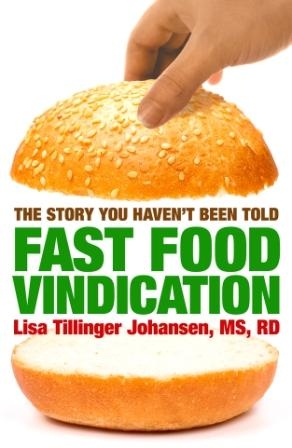 For years, dozens of books, documentaries, and magazine articles have targeted the fast food industry as the cause for many of society's ills, ranging from the obesity epidemic to the proliferation of dead-end jobs. Now, hospital dietitian Lisa Johansen makes the bold case that the fast food industry is actually a positive force in society. Johansen takes the reader from the industry's scrappy, entrepreneurial beginnings to its emergence as a global business generating hundreds of billions of dollars annually. Far from a blight on society, the fast food industry has distinguished itself by providing a product that meets high standards of quality and safety, often healthier than meals served at home and in sit-down restaurants. The myth of the "McJob" is debunked by true-life cases of corporate titans who succeeded by virtue of the fast-food chains' practice of promoting from within. And, relying on her years of counseling patients at one of the nation's largest health networks, Johansen shows the reader just how easily fast food can be incorporated into a healthy lifestyle. Lively and informative, FAST FOOD VINDICATION destroys the media myths and paints the true picture of an industry that touches the lives of millions.
A Reader or a Writer, Which Would I Rather Be?
- Guest Post by Lisa Tillinger Johansen, MS, RD
A reader or writer, which would I rather be? What a question that is! I love both so much and to choose one or the other is difficult. It's the perfect conundrum.
As it turns out, I've been reading and writing for most of my life, since I was a little girl. Both have been huge interests of mine. Both provide very similar experiences for me. Escape, gratification, learning, joy, happiness, all things these two wonderful occupations have bestowed on me. One is my right hand, the other my left.
There's nothing better than reading a good book. Back in the day, and even now, the weight of the book in my hands; the feel and smell of the pages as I turn them; immersing myself in the words and the story, entering a funny, or a scary or a puzzling world is such a pleasure. Getting the scoop on the life of an historical figure or a take on a current issue or event can be eye-opening. I love being introduced to engaging characters and getting caught in the thickening plot in the fictional world. The nonfiction genre provides a different feeling. They can anger us, comfort us, surprise us and empower us. Gaining knowledge, inspiring passion, the gratification of a story well told, how can it get any better than that? A life without reading would be a very bleak one indeed.
But for me, a life without writing would be an incomplete one. A lot of the feelings I get and the things that I want to achieve come through me putting pen to paper and fingers to keys. When I write, I escape into the world in which I'm creating. It's an incredibly satisfying feeling. And while I'm primarily a nonfiction writer dealing with facts and figures, it's still a creative process. It's a very personal endeavor with a specific goal.
To spend so much time thinking about a book, researching it, bringing it to reality and doing what it takes to get it out to readers is a great deal of hard work and effort. It can be a long journey, but definitely a worthwhile one. Seeing that shiny new book of mine at the end of the process fills me with pride. Even better is that, in my case, my books help people. There's nothing better than that.
So, back to the question that prompted this blog. A reader or writer, which would I rather be? It's a tough choice for sure. While I could live without one, I don't want to. And because these words and this particular piece are my own creations, do I have to choose? I say no. For as long as I'm able, I'll continue to be the avid reader that I've always been. And I'll still write. And then I'll read what I wrote! It's a win-win.